Defensive formations on the soccer field
---
---
Use the soccer field to your advantage and play clever defensive formations that will irritate opposing teams and allow you to keep more clean sheets.
Defensive formations can work in your favour against opponents you know will be strong. By adding more defenders you can 'double-up' on opposing teams strikers and not allow them to have any time on the ball.
There are two useful formations in which you can play with five defenders in your team.
1. 5-3-2 formation
2. 5-4-1 formation
The 5-3-2 formation consists of 5 defenders, 3 midfielders and 2 strikers. The diagram below shows how these players would generally look on the field of play during a game.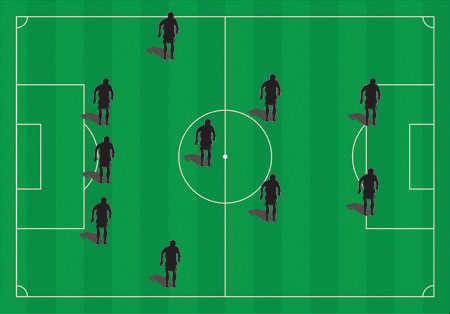 The three defenders would sit at the back and control the game. One of the defenders could even act as a sweeper while the other two man-marked opposing teams attackers.
The two widest players in the formation could act as either full-backs or wing-backs. If they act as full-backs they will bemore defensive minded and rarely push forward to help the midfielders.
The better idea here would be to use them as wing-backs. Wing-backs will remain defensive when the opposing team has the ball but push forward when their team has controlof the ball. Wing-backs cover a lot of ground on the soccer field and therefore need to have a good stamina.
Too defensive?
If you would like to check out balanced formations... click here!
The three midfielders will look to dominate the play. The likelihood is they may only be up against two central midfieldersand so it is important that your players don't allow them any time on the ball.
The two attackers will need to act in the same way as they would in any formation and try to score goals. They may perhaps need to hold the ball up more for midfielders and the wing-backs to join in the attack.
The 5-4-1 formation is very similar to the 5-3-2 formation. The only difference is that one of your attackers has been asked to drop back on the soccer field and help in the midfield.
They would therefore be considered as an attacking midfielder or a support striker who would look to link up with the lone striker as often as possible.
Take a look at the diagram below of the 5-4-1 formation.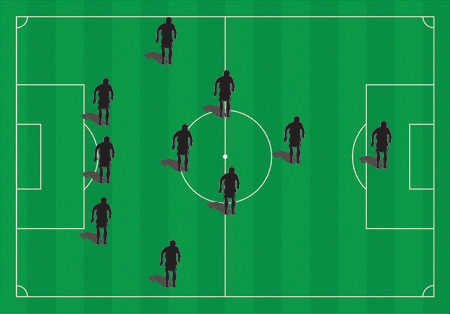 As you can see this is a very solid formation in which your players should be strong and secure in defence and totallyoutnumber the opposition in midfield. However, it may be difficult to score lots of goals as you will lack real offensive play from not having any true wide players. Perhaps you might encourage your wing-backs to get forward as often as possible to assist in any attacks you might have.
The other possible defensive formation you might play is the 4-5-1 formation. This is a very common formation around the world and isn't as defensive as the other two listed above.
This formation should be more straight forward for your players toknow their roles on the soccer field.
Take a look at the 4-5-1 formation below.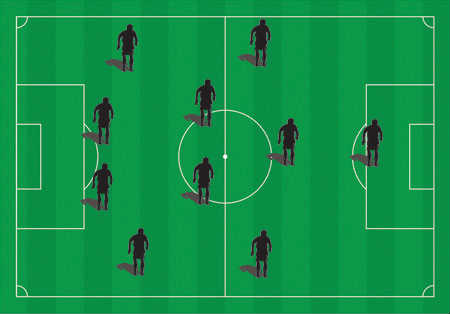 The defenders you have in this formation should be operating as a flat-back four. Nevertheless, one of the central defenders could play as a sweeper if that suits your style of play. The two full-backs will remain defensive.
The 5 midfielders in the diagram have lined-up with two defensive midfielders, two side midfielders and one attacking midfielder. Once again, this can be chopped and changed to suit your players.
For example, you may want to play with one defensive midfielder and two attacking midfielders making the formation more balanced between defence and offence.
Check out other formations here!
I hope you have found these defensive formations useful. If you are after a more balanced or attacking formation please follow the links below.
leave the soccer field - back to homepage