Soccer Coaching Drills U8 - U9
---
---
This section of my website is aimed at soccer coaching drills for the U8 - U9 age group.
Although the U8 - U9 coaching practices still need to be fun, it is now time to move on to slightly more technical drills.The players by this age are beginning to understand more technical parts of soccer such as a better positional sense and spacial awareness. If you feel these drills are slightly too advanced for now, why not try out some of the U6-U7 drills and adapt them as required.

U8 Drills
U9 Drills

Soccer Scrimmage (wide-gates) - U9

Soccer Dribbling (with skills) - U9

What I enjoy about the soccer drills for this age group is that we can start to include more 'coaching points'.
Each one of my exercises includes coaching points.
Look at these carefully and remember to keep asking your players questions on these coaching points.
This should then allow your players to start thinking for themselves.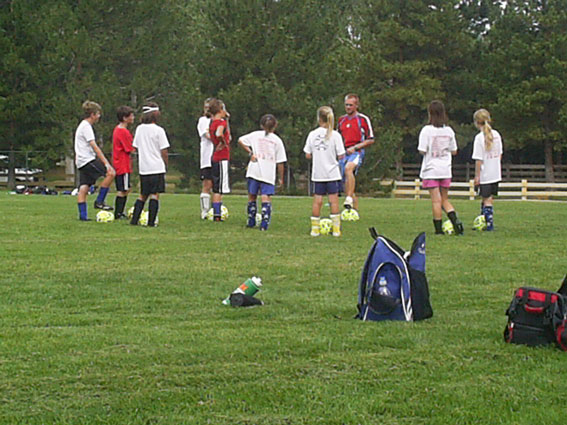 Are YOU respected as a coach? I was lucky that when coaching in America I had the 'luxury' of having a British accent.This seemed to help me come across more professional I was often told.

Also, I soon realised that many of my soccer exercises were not only original to the players but also exciting. (Please feel free to use as many of the drills as you like!)
If the players are having fun then they will naturally learn. Remember that! Just because the players get older, doesn't mean the fun has to stop.
If you ever see a Premier League team practice you will notice that they are frequently playing fun, soccer related games to keep the players motivated.
Now go check out the U8 - U9 drills above and see what you can take to your practices and sessions.

If you feel the U8 - U9 drills are too sophisticated for your players then take a look at the great drills under the U6 - U7 tab on the left hand side. Alternatively, if your players are becoming too advanced for these drills then the U10 - U12 drills or even U13+ drills might give you some fresh ideas. Happy hunting!